Beginners Guide to Metal Dildos
Metal dildos are an underrated type of sex toy that many have never tried or even considered. This is partially because of the fact that metal dildos are reasonably uncommon. Similar to glass dildos, metal dildos are super smooth and make any intimate insertion really comfortable.
So what are the desirable differences that sets metal material apart from the rest?
Metal or stainless steel dildos are sought after by experienced users. This is because of the super intense experience that this material enables. Metal dongs usually pack more weight than realistic dildos for example. This means that upon insertion the weight can pull down or up depending on what positioning your currently in. Make the most of gravity and try out both! When dildos are angled they may stimulate the g-spot or hug the vaginal walls a bit tighter. The greater weight however means their not recommended for use with a strap-on or any dildo strap.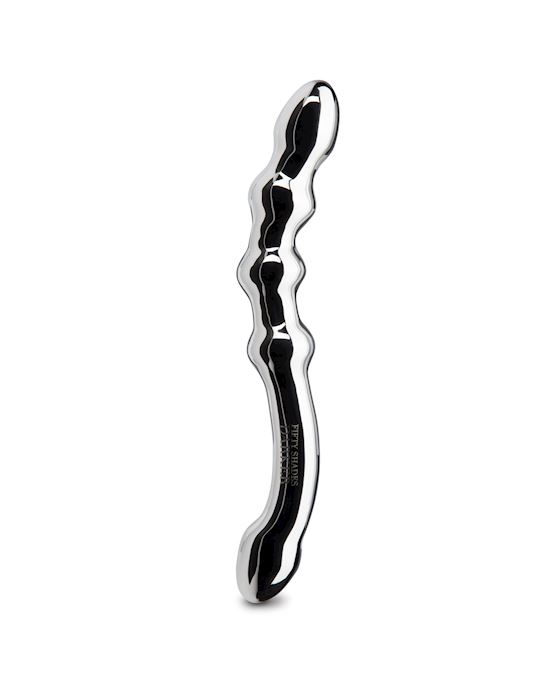 Fifty Shades Darker Delicioulsy Deep Steel G-spot Dildo$142.95Shop Now
This Deep Steel G-Spot Dildo is an example of a premium steel dildo. With the ability to be inserted at either end, users have the choice between a luxuriously smooth experience or a more intense beaded end. Both ends are curved to massage the g-spot with each sensual thrust.
Cleaning
Sex toys vary in terms of how easy they are to clean. Most require a generous helping of sex toy cleaner, a quick wipe down and you're ready to go. Ease of cleaning can be the persuading factor between wanting to utilise a toy or not. Easy cleaning ensures the repeated use of the toy concerned. Likely to result in increased levels of satisfaction because you learn the most pleasurable way to use the toy.
Further metal material is a great alternative because it encourages hygienic sex. Anything that prevents the buildup of any nasty bacteria in your sex life is generally welcome. This is why metal dildos are an attractive option. Cleaning is made simply by submerging them in boiling water or even placing them in the top of the dishwasher. So use it before you activate the dishwasher for the night, that way you won't sacrifice any precious sleep either.
Perfect for Beginners
Although metal doesn't appear to be the most friendly material at first glance. It's cleanliness, smoothness and comfort will rid any worries you originally had. Your perception of this material will change from a terrifying trinket to a tempting trophy that's discreetly standing on the mantelpiece. For those who would like to increase the size of their dildo game but is concerned about purchasing something too big. Or you're a beginner and would like to venture toward a small dildo, metal is a reassuring first choice. The comfort that metal features makes them an encouraging first choice for all sizes.
Kink and Visual Arousal
As mentioned previously, metal can seem intimidating. However, for some this a welcome kink. Inserting something into your body that feels taboo provides visual arousal and heightens the incoming sensation. That's why users sometimes just hold it during foreplay. Simply rubbing the metal on the body of their partner to set the tone for a raunchy session. Some metal dependant dildos can even be inserted partially into the anus. Just ensure that you've got a firm grip on the other end so it doesn't go in further than welcome. Take this seriously! Did you know Sweden is currently reconsidering it's safety standard around sex toys, due to rectum related injuries (getting stuck).
One toy that is perfect for prostate play is the Double Trouble from Metal Worx. With an artistic design, this dual fingered massager mixes visual arousal with smooth sensation.
Temperature Play
One aspect that metal dildos boast is temperature play. A concept that is mostly associated with glass dildos or certain lubricants. Temperature play involves either warming or cooling down your toy by submerging it in water. Metal is very temperable, which is great for playing with variations of nerve tingling sensation. However, users should be careful with how hot or cold their toy is. If it's been basking in the windowsill on a hot summer's day, it's probably worth letting it cool down before things get freaky. Considering their going to be near some very delicate areas, always discuss with your partner what temperatures they are okay with and what is too extreme.
Important things to remember
Whenever incorporating dildos or any adult toys into sex. Ensure you have complete and utter trust in the person you are using them with. Not only is this safe practice but will make for a more intimate experience. The most satisfying sex with toys results from partners who both know how a toy is best used!
Stainless steel is the recommended material! Some material may be very low quality and therefore be more susceptible to product imperfections. This article has focused on high quality metal, however be sure to read the description of a product to check the metal concerned. Sometimes sex toys will have "metal" or "steel" as their colour, this is not necessarily reflective of the product material!
Try metal dildos for yourself?
See Adulttoymegastore's full range of dildos including classic dildos , double ended dildos , and realistic dildos.