5 Bondage Items to Try During the Festive Season
The festive season is the perfect time to explore some new found desires. Why? Ribbons, tinsel, dangling baubles, binding things is a natural part of festivities. So, why not introduce some festive spirit into your sex life. If you're feeling especially kinky, reuse some of the decorations (probably ribbon) for some themed bondage.
It's also one of the times relationships are likely to have some time off. Bondage takes a bit more time to negotiate before actually doing it. The more communication and preparation that takes place beforehand, the more pleasurable the experience will be! Whether you're a beginner or an aficionado, when trying something new, you need to communicate. Read this guide from our very own BDSM expert, 'Negotiating a BDSM Scene.'
Mattress Restraints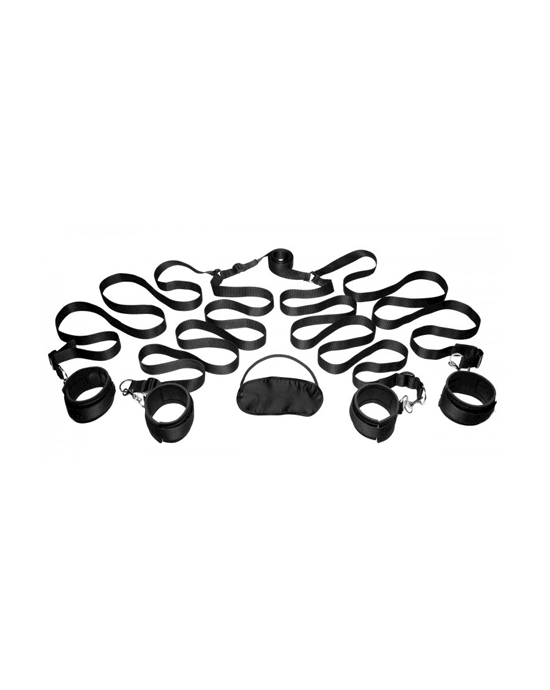 Bedroom Restraint Kit$55.95Shop Now
This Bedroom Restraint Kit is a hugely popular pick at ATMS. One customer saying, "absolutely love this! My partner and I leave it under our mattress permanently and whip it out when we want to have a bit of fun. Restraints are reasonably strong, good quality for the price and comfortable."
Mattress restraints are sought after for a number of reasons. They remove the need for partners to buy many individual restraints and pair them. The drawback being that this restraint is limited to your bed. The other aspect is how discreet they are! The family have invited themselves around for Christmas and you need to quickly disassemble the sex swing from the ceiling, hide the spankers amongst the tennis racquets and change into something more appropriate. Mattress restraints are literally a five seconds job, just stuff the restraints back under the mattress and you're sorted.
Blindfolds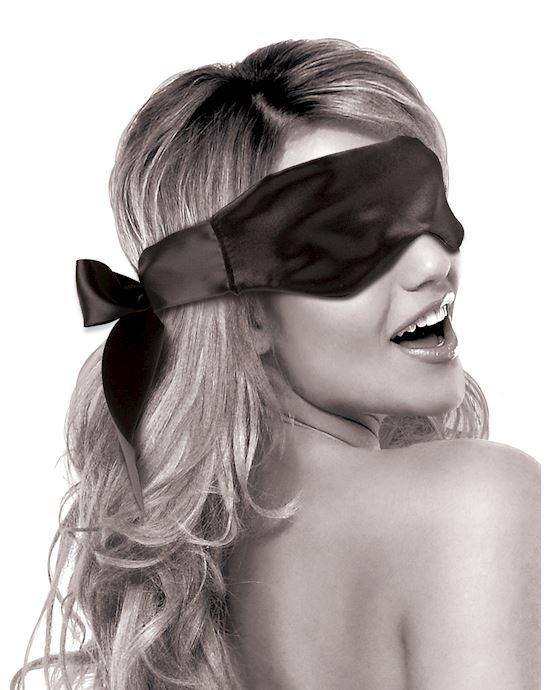 Fetish Fantasy Limited Edition Satin Blindfold$27.95Shop Now
The difference between this Satin Blindfold is the comfort. It's super soft, making the darkness a lot less intimidating. Further, the elastic strap is a bit longer than usual, this adds to the elegance of the piece. Where you can tie a graceful knot and still leave some fabric dangling.
Blindfolds are all about enhancing stimulation through sensory deprivation. Reducing sight causes the touch from our partner to be amplified. This can build some serious anticipation as you don't know where they will kiss next. They also boost confidence! Users no longer have to worry about how they may look making some seriously passionate facial expression. Blindfolds nullify any potential embarrassment and move the focus to bodily expression. The renewed focus can assist a relationship in terms of responding to how their body reacts and communication in general.
Nipple Clamps
At some point in horny history, I imagine someone was looking at all the decorations dangling from the Christmas tree. Then they saw their partner's breasts and like an erogenous Einstein, nipple clamps were invented! They aren't only for females, but the bigger the nipple, the easier they are to apply. One misconception surrounding nipple clamps is that they will hurt! They don't have to be painful if you don't want them to, The majority of nipple clamps are adjustable, therefore just keep them on the lightest setting. Another difference is how heavy they are. They will tug less if they don't have any additional jewels or weights attached as well.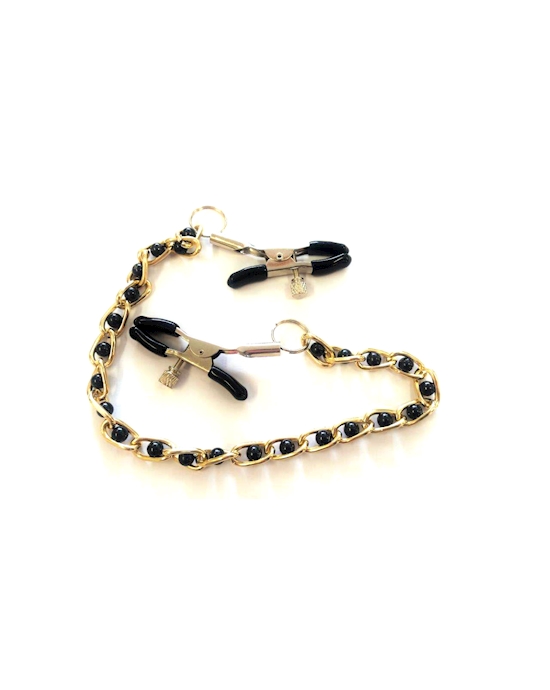 Nipple Clamps$23.95Shop Now
These Nipple Clamps are equally frisky and fashion forward. The chain on this clamp adds a slight tugging sensation but is still suitable for beginners. One review says, "at first I was like these are stingy, was filming myself to show my friend after he watched he told me I had the tension too tight, so yeah once I unscrewed them a bit I really enjoyed the sensation, he did too."
Door Swings
Perhaps the only time closing a door can lead to new opportunity! The first thing you're going to need is a sturdy door. Drape your swing over the door and get amongst it. Couples like to enjoy door swings because they are enable new positions that otherwise aren't possible, or at least weren't possible to sustain for a long time. New positions introduce new angles as well as deeper penetration and thrusting potential. It's only limited by your imagination, so explore all the variations that some sexy support can provide.
Full Restraints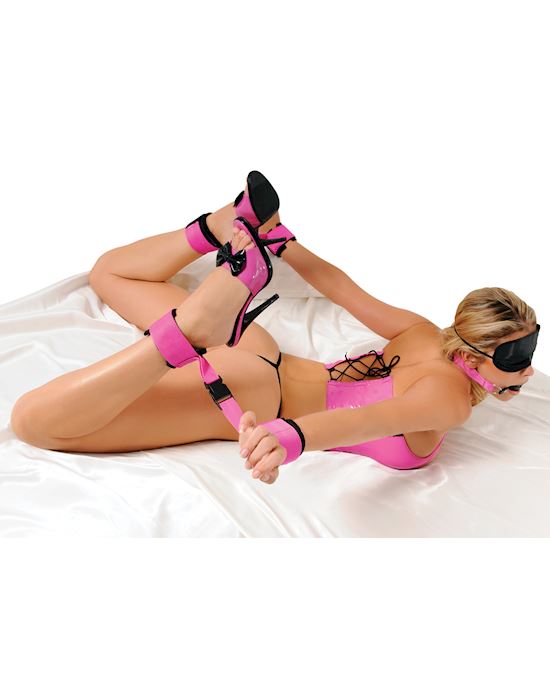 Fetish Fantasy Bondage Kit$35.95Shop Now
"Sorry we are a bit late to the Christmas party, we were a bit tied up." This Pink Passion Bondage Kit is simply gorgeous. Bondage is thrilling, but these tethers emphasise visual arousal as well. The high quality nylon ensures the adjustable tethers and ball gag will last the distance you desire!
Video sourced from
Adulttoymegastore
One customer said "we have a lot of fun with this set. It is easy to use, very easy to quickly change positions in and extremely effective. If you want to go the whole way, do what we did, match hot pink heels and lingerie to the hot pink cuffs..."
Remember!
Bondage play is all about communication! Always play with someone you have complete and utter trust in. Discuss what you are comfortable with, setting clear boundaries as to what can and cannot happen.
Always identify a safe word before using any toys. Some couples like to set a couple safe words, one that means the intensity needs to be lessened and another that means play needs to stop immediately. Popular safe words are randomly fruit themed, pineapple, apple, and banana are commonly used. Otherwise use your favourite colour to keep sex safe!
Checkout Adulttoymegastore's entire bondage category, including full restraints, position enhancers, blindfolds and nipple play.